I started reading a new book by Gregory C. Hutchings, Jr. and Douglas S. Reed this week titled Getting Into Good Trouble At School: A Guide to Building an Antiracist School System. While I am just a third of the way through it, I found a number of excerpts strongly resonating with the prominent news surrounding the racist social media attacks on LSU's star basketball player Angel Reese (a black woman) and the expulsion of Representative Justin Jones and Representative Justin Pearson (both Black men ) from the Tennessee House of Representatives for standing with constituents who were protesting for more gun control measures following the school shooting at the Covenant School in Nashville.
In both cases, there were white people participating in the same behavior who were treated differently.
In Angel Reese's case, there was Caitlin Clark, the star player from Iowa who had given a similar hand gesture (see below) when her team won a game earlier in the NCAA Tournament, but faced no criticism. Reese was immediately vilified for her gesture as outlined by Jemele Hill in this article from The Atlantic.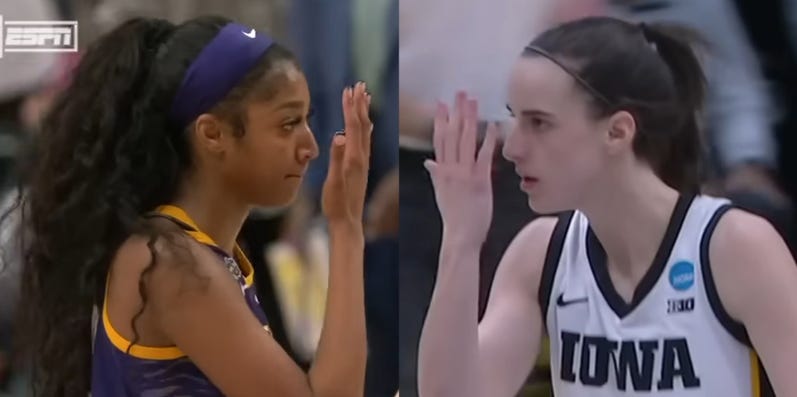 In the case of Representatives Jones and Pearson, who were voted to be expelled by their colleagues in the Tennessee House of Representatives to by votes of 72-25 and 69-26 respectively, there was a third State Representative who protested with them when the crowd advocating for greater gun control measures. She, however, was not expelled from the Tennessee House of Representatives. Her name is Gloria Johnson and when asked on CNN why she was not expelled like her black colleagues she said the following: "Well, I think it's pretty clear. I'm a 60-year-old white woman and they are two young Black men. In listening to the questions, and the way they were questioned, and the way they were talked to. I was talked down to as a woman, mansplained to, but it was completely different from the questioning they got. And this whole idea that you have to almost assimilate into this body to be like us."
A couple of excerpts from Getting Into Good Trouble at School that are closely connected to these two stories and so many other daily inequities faced by our fellow black citizens due to the prevalence of systemic racism in our country:
"The stories and histories we tell about ourselves, our communities…are not simply self-evident accounts of what happened in the past. They are also justifications of how things became the way they are.."
"Learning, knowing, and telling your history is empowering and enlightening, and it is the first step toward equity."
"The value of stories told by (marginalized groups) is that they reveal how inequity is built and maintained."
Other things I read this week that have me thinking
Allsides.com Coverage of the Expulsion of TN Representatives
Oh, White Fragility: Florida School Bans Ruby Bridges Film – by Aziah Siid on wordinblack.com
Oops, Your Denial of Systemic Racism Sorta Proves Systemic Racism – by Tim Wise on Medium.
School District Mission Statements Highlight a Partisan Divide Over Diversity, Equity and Inclusion in K-12 Education – by Meltem Odabas and Carolina Aragao at pewresearch.org
'Thousands of Dollars for Something I Didn't Do' – The New York Times
Some things I heard/watched this week that have me thinking
Henry Turner on Listening and Empathy – from the Planning Period Podcast hosted by Newton North teacher Brad Shreffler
The Case of LaKeith Smith – From the episode website: "This episode of the Into America Podcast talks about the felony murder rule allowing a person to be charged with murder even if they're not the one who did the killing. Experts say it's a legal charge that disproportionately hurts young, Black, and brown men."